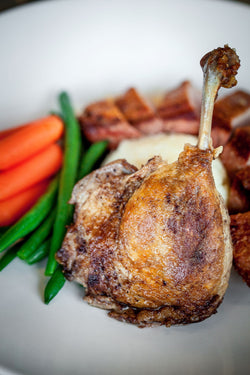 Our duck leg confit is slow cooked in its own juices and a rich brine using traditional methods from the South of France. Our duck confit moist, tender, and is the perfect addition to your salads, pasta, soups, and even tacos! Our confit is fully cooked, quick and easy to reheat.
• Average weight 6-7oz/ 113-140 grams 
• Ships whole and vacuum sealed 
• No MSG
• Hormone free pasture raised duck
• No artificial coloring or flavoring 
• No artificial preservatives
• No nitrates
• All natural artisan made
COOKING INSTRUCTIONS
Duck confit can be crisped in a skillet on medium heat for 2 to 3 minutes. If you are looking for that extra crunch, you can also pan fry or broil in oven.
Can be served whole to make a beautifully presented dish, or meat can be shredded off to use in pastas, salads, or tacos.